Skin Protection
In selecting a protective cream, one question must be asked: are the aggressive or soiling agents water-soluble or insoluble?
---
Water-soluble soiling agents
These products are water-resistant preparations that are effective against the effects of acids, alkali, and saline solutions.
BLICK 1000 - cream
Code 204.0
BLICK Fluid - lotion
Code 203.0
Two 10% Silicon "C" emulsions, highly protective and non-adhesive. Recommended for mechanics and construction workers.
pH = 6,0 ± 0,2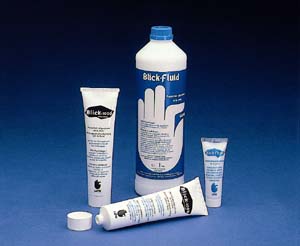 Combination of water-resistant components (excluding silicones), resistant to water-soluble agents. DELTASOL is recommended for use in all industries in which silicones are prohibited - in particular, electronics, paint, and automobile workshops.
pH = 7,1 ± 0,2
Highly detergent (silicone-free), water-resistant complex specially developed for protection against micro-ionized, emulsified, soluble oils.
---
Non water-soluble soiling agents
These products protect against organic solvents such as trichloro-ethylene, white-spirit, toluene hexane, oils, lubricants, grease, paint, and ink. Protection is provided by hydrophilic creams.
ANTIXOL
Code 202.0
A gel which, when completely dry, forms a flexible film that resists the action of all organic solvents and heavy oils.
After work, the film is removed by simply rinsing with water.
pH = 6,7 ± 0,3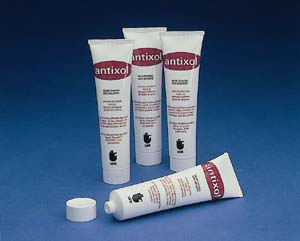 Self-cleaning protection One application = two results:
protection during work
hygiene after work
Protection against paints and varnishes, lubricants and grease. When mixed with water, the protective layer forms a thick foam, removing dirt, oils, lubricants, grease, paints, etc.
pH = 7,0 ± 0,3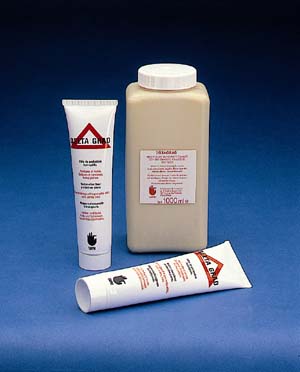 ---
Targeted protection for specific problems
Anti UV A and B emulsion.
Specific protection against pitch and tar whose harmfulness is increased by exposure to sunlight. (silicone-free)
pH = 6 ± 0,2
Product specially prepared for facial protection. Semi-fluid, non-drying emulsion, which forms a silicone-free protective film. This film is removed after work by wiping with a sponge and then washing with soap.
PH = 7,5 ± 0,2
Epoxy and polyester resins are powerful and aggressive agents, capable of triggering allergic reactions. A light POLYPOX film slows polymerization, prevents penetration into the skin's surface and facilitates cleaning after work.
PH = 7,5 ± 0,2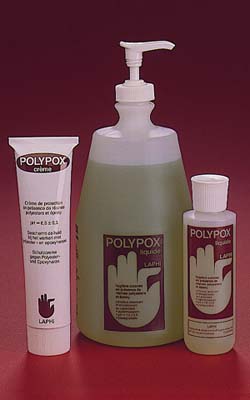 ---
If you are interested in additional information, we have at your disposal:
a technical sheet for each product
samples to be used in tests in your own workshop.


Siège Social et Services Commerciaux
6 rue Michaël Faraday, F-67540 Ostwald
Telephone +33 (0)3 88 22 26 38
Fax +33 (0)3 88 32 13 11
E-mail

Copyright © Laboratoire de Protection et d'Hygiene Industrielle (LAPHI).